Crested Butte has hidden gems when it comes to venues where you can set up a wedding tent. So, we are here to break down a few of the venue options. Lucky Penny has two different tent styles, our sheer top tent that has clear walls, all wood poles, and a translucent top that allows the sun to enter the tent and creates an amazing glow effect in the evening. We also have a vinyl tent that is beautiful and comes in many different sizes beginning with a 40'x40′. If you are not certain what size tent you would need for your event, don't worry! That is certainly something we can help with.
Town Ranch
Crested Butte Town Ranch is located right in the heart of downtown Crested Butte. It is owned and managed by the Town of CB and reservations may be made a year in advance through the Parks and Rec website. A tent for 20 or 200 fits nicely in the same field where you can set up a ceremony, host the cocktail hour, then have guests move into the tent for dinner and dancing. The park bathrooms are conveniently located near the tent site and are cleaned daily. A three-day rental is required for tented events to allow for tent setup and breakdown, with your event in the middle! As of late 2020, the rental fee is $1,200 plus a $375 refundable damage deposit. Events at this site must conclude before 10pm. Potable water and power are provided on-site, although I would recommend renting either a generator or a spyder box to accommodate all your power needs.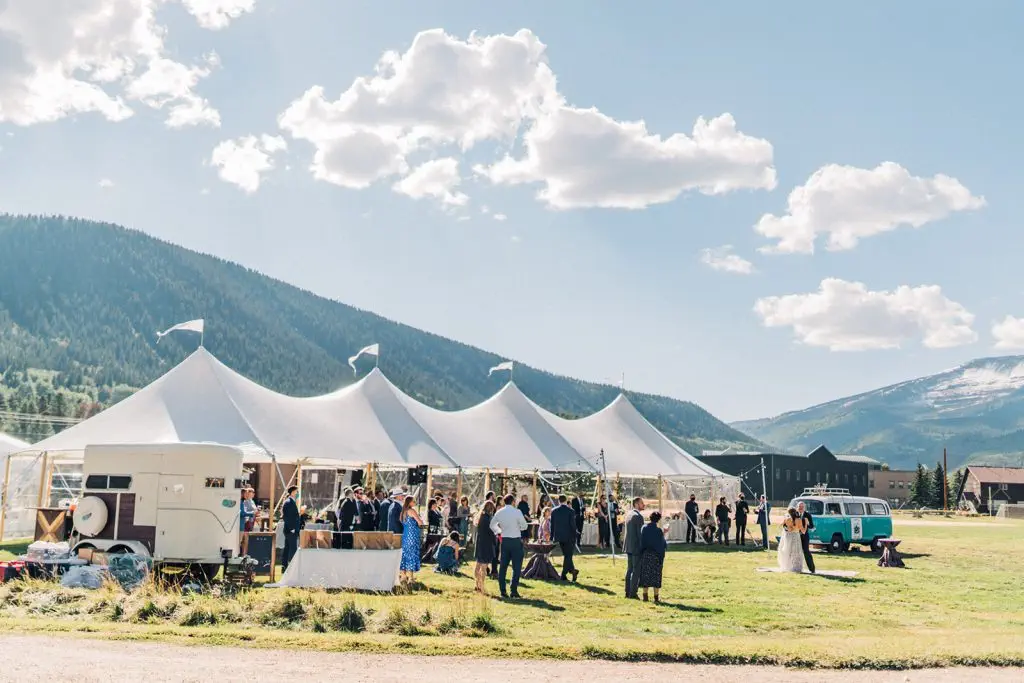 Photo captured by Jason & Daris Photocinema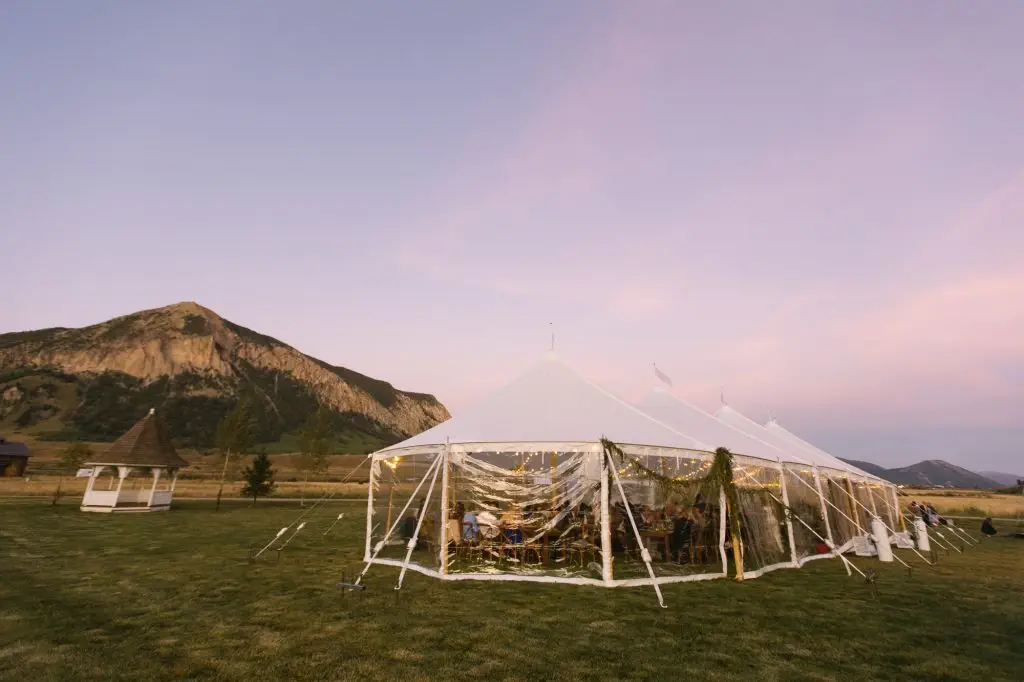 Photo captured by Matthew Defeo
Uley's Cabin
Crested Butte Mountain Resort (CBMR) owns and manages events at Uley's Cabin. It is tucked away deep in the ski runs of CBMR and venue tours must be run through the Wedding Sales Coordinator, as the venue is a little tricky to get to. Transportation is required for all guests, as you can get easily lost and there is limited parking on site. Vendors can drive out but an escort is required by a CBMR staff member. Due to the narrow, windy and bumpy road, a large coach bus is not able to get out to the site so multiple smaller passenger vehicles (20-25 seats) are required, which increases transportation costs as compared to a site where one vehicle/driver is an option. As of late 2020, the rental fee is $3,000 with a $15,000 food and beverage minimum for a Saturday date. All food (minus sweets) and beverages are provided by CBMR. The lovely cabin allows for about a max of 50 guests. If you find your guest count above this, a tent will be needed. There is a flat piece of land nestled right up to the cabin so guests can conveniently access the tent on the grass, outdoor-deck bar, and the indoor space, where the restrooms are located. The views are stunning with the peak of CB right behind the tent and views from the deck look towards Gothic Mountain. Events at this site must conclude before 11pm.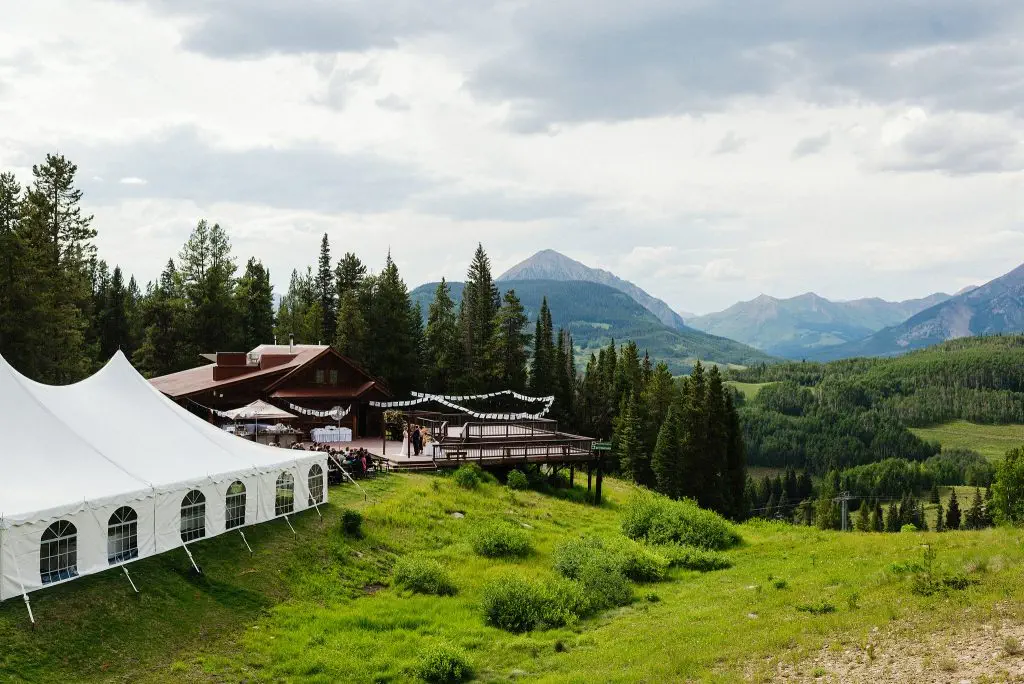 Photo captured by Adonye Jaja Photography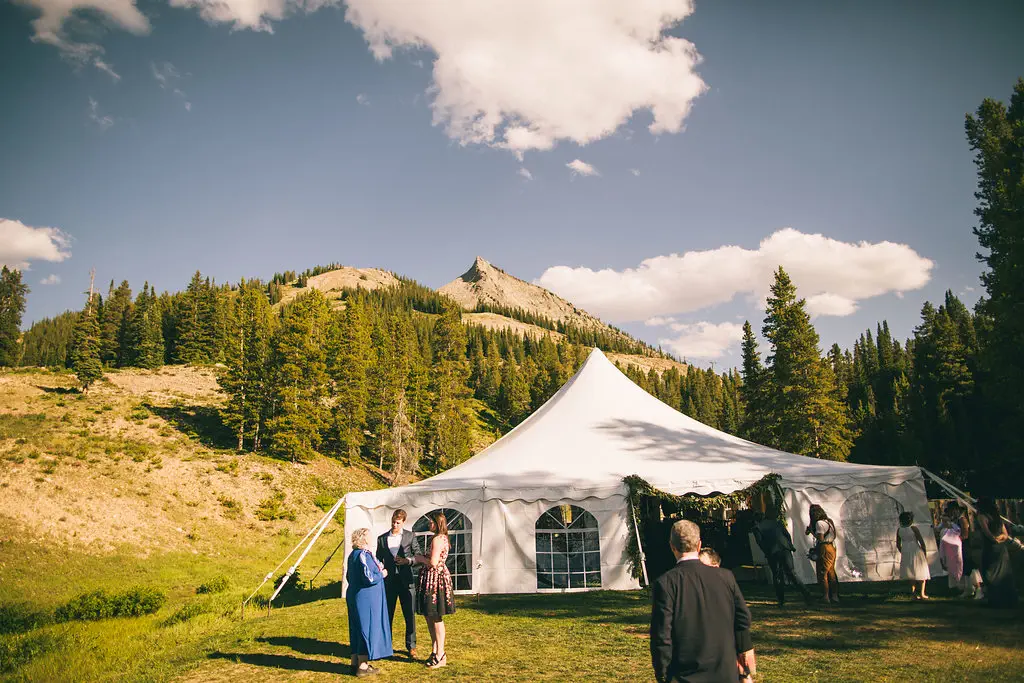 Photo captured by Magnified Joy Photography
Cement Creek Ranch
David and Chris own this lovely 100-acre plot of land. It is located 4.7 miles from the turnoff from 135 at Crested Butte South. From this point, it takes about 12-15 minutes, so it is a bit slow-moving. In recent years the road has been graded and low clearance cars are able to access this site. There are no restrooms for guest use on site so portables will need to be rented. A local option is Gunnison Construction and Septic, they range from $200 each to the $1,200 Porta Lisa trailer. There are no vendor restrictions at this site, such as alcohol or catering, so you may bring in any vendor you wish to work with. Event insurance is required by the owners and may be easily added to your current insurance policy. Transportation is not required, yet is highly recommended as this venue is very off the grid. You and your guests will not have cell phone service out at this lovely site. There is technically no noise ordinance but with the combination of elevation and my theory that nothing good happens after midnight, I would recommend wrapping it up before midnight, at the very latest. There are a number of locations you may choose to host your ceremony, from the hot spring's trickling waterfall, or next to the iconic half-circle barn overlooking acres of land, or down in the field with the horses. The ideal space for tent setup will easily accommodate any size of tent. There is a pool house close to the tent site that may be used for vendors. Limited power and potable water is one site. Event renters must rent the two-bedroom cabin on-site for a three-day minimum.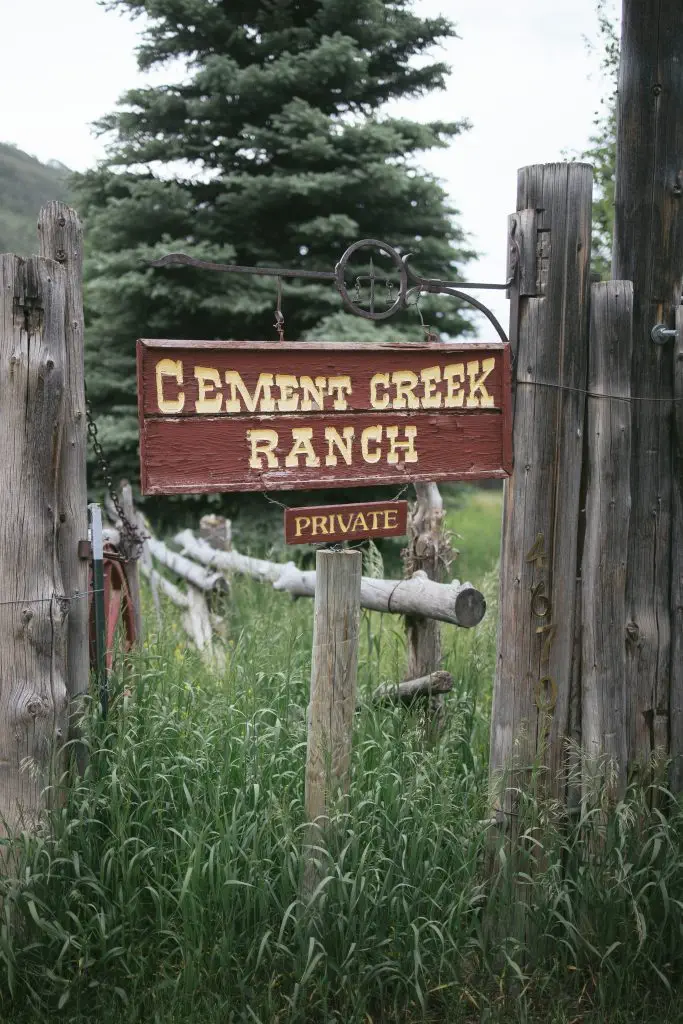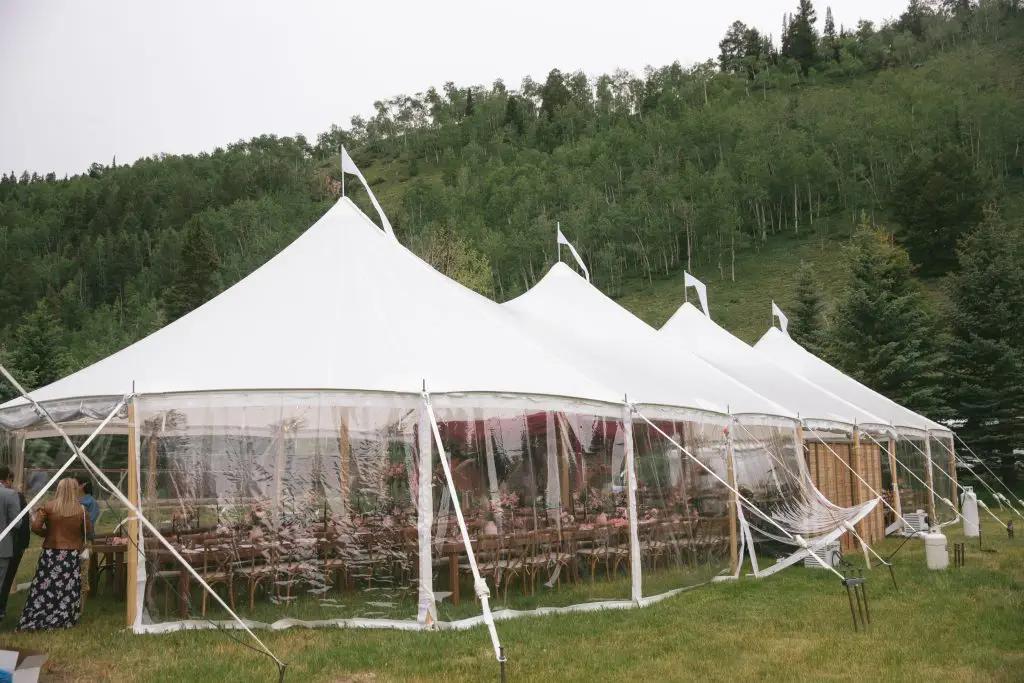 Photos captured by Geoff Duncan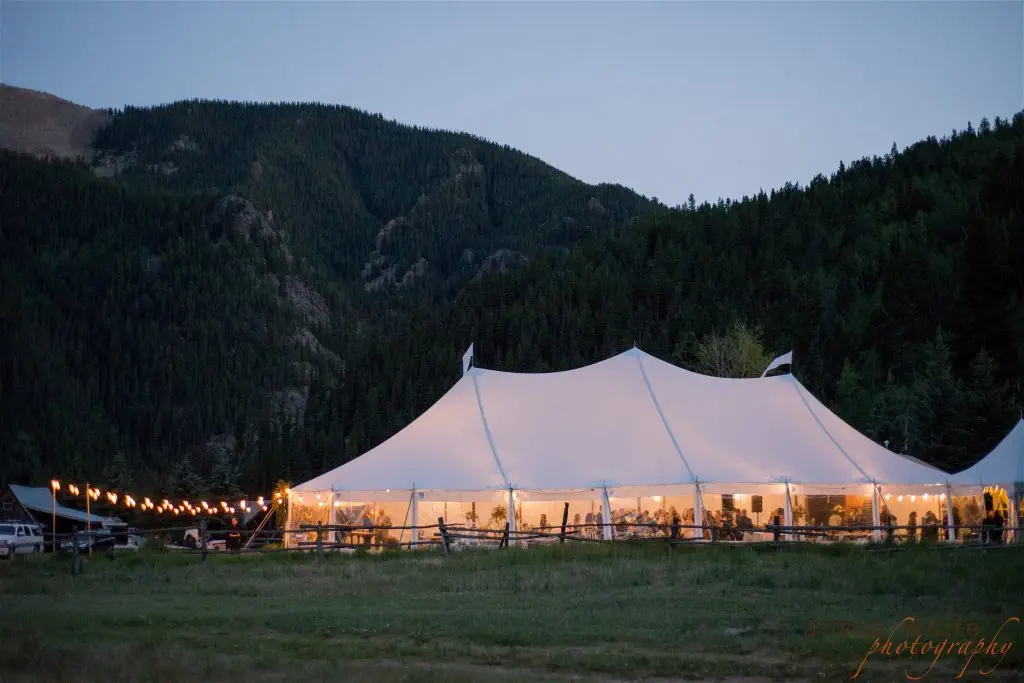 Photo captured by Allison White 
Chalet
This beauty of a venue is privately owned by locals Dan and Paul, who live on-site year-round. This barn venue is nestled on the Southside of Round Mountain. Small events of no more than 40 guests are great for this property. A tent can be set up in the corral and may be used for additional coverage than the barn. The largest tent size that can fit in this space would be our 32'x71' sheer top tent – but that is even pushing it. There is one ADA accessible restroom located right in the barn area. Dan and Paul have no agenda regarding vendors other than wanting you to have the best vendor experience so you may bring in whatever food and beverage vendors you wish to work with. Only six vehicles are allowed on the property, including vendors, so transportation for guests is likely required. All amplified sound needs to conclude by 10pm. The views from the property look South towards Gunnison. The Aspen Suite is an adorable one bedroom and full kitchen rental that is attached to the main house. Event rentals are required to rent this room for three days.
The Chalet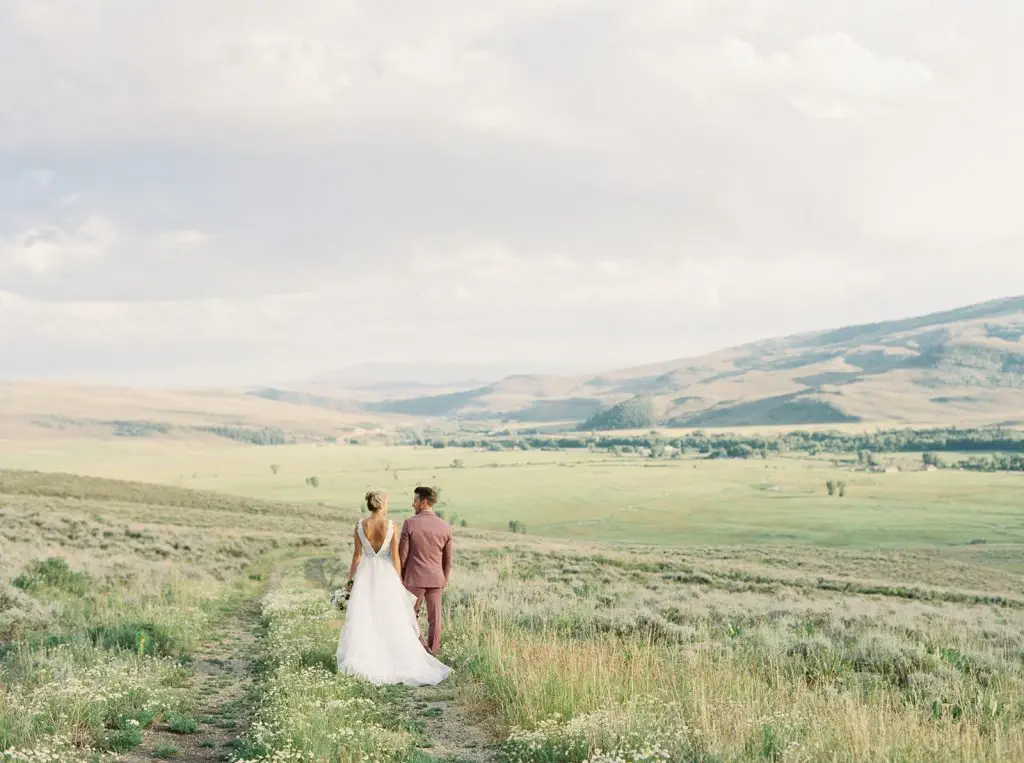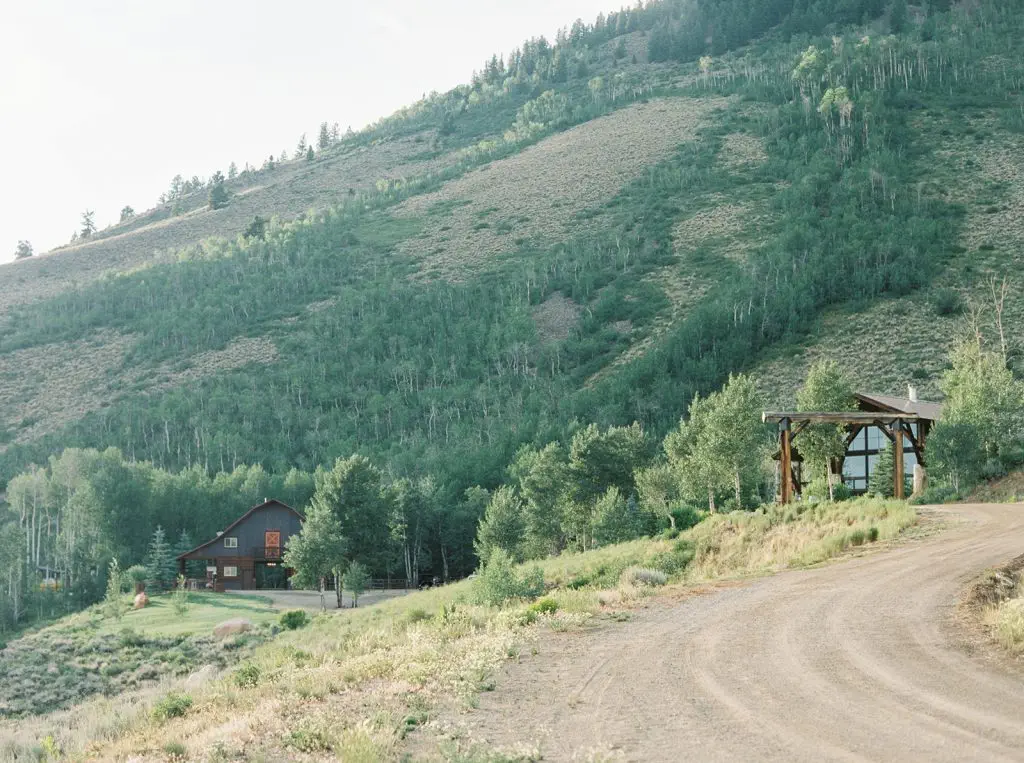 Photos captured by Cat Galletti
Harmel's Ranch
Harmel's Ranch is located up Taylor Canyon towards Taylor Reservoir. Food and beverage will go through the on-site team. There is a small covered area but I would recommend additional coverage with a tent if you have over 40 guests.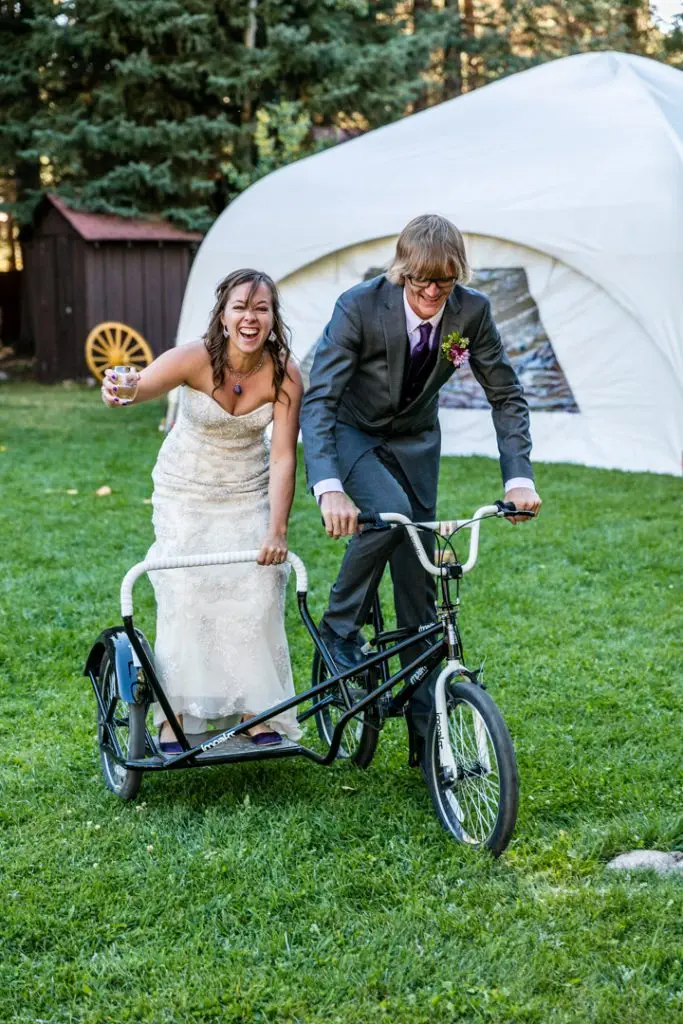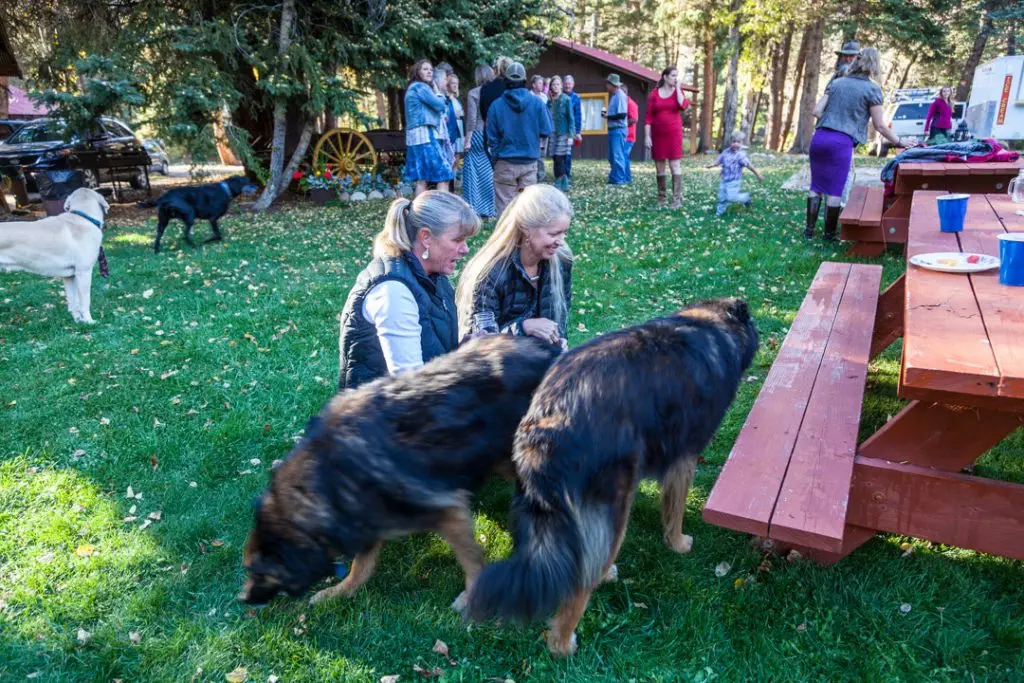 Photo captured by Open Your Eyes Photography
Three Rivers Resort
The owners of Three Rivers Resort are wonderful hosts. The lush grassy area located right behind the dining cabin can accommodate a small or very large tent. Restrooms will need to be rented and brought onto the site. Food and beverage will go through the catering team of Three Rivers Resort. There are a number of parking spots, so transportation for guests is optional.
Red Dog Ranch
Red Dog Ranch has a new owner, Brian, and has been used for few events to date. There is a lot of potential for this venue. The ranch is located about one mile south of the town of Crested Butte near the highway. No restrooms are located on-site as of late 2020. As for vendors, you may bring in whatever vendor team you wish to work with. Transportation is recommended for guests as there are limited parking spots.
Taylor River Lodge
Eleven Experience owns and manages this property located 11 miles up towards Taylor River Lodge, the road at Almont. This venue is nestled in pine trees right along the Taylor River. Events are required to book the entire property which includes 8 cabins that can accommodate up to 30 people. Eleven requires that all food and beverage be booked with their in-house culinary team. Transportation for guests is highly recommended. The Lodge can accommodate 50 people for a seated dinner; larger guest counts will need to rent a tent that will be set up near the Lodge and local pond.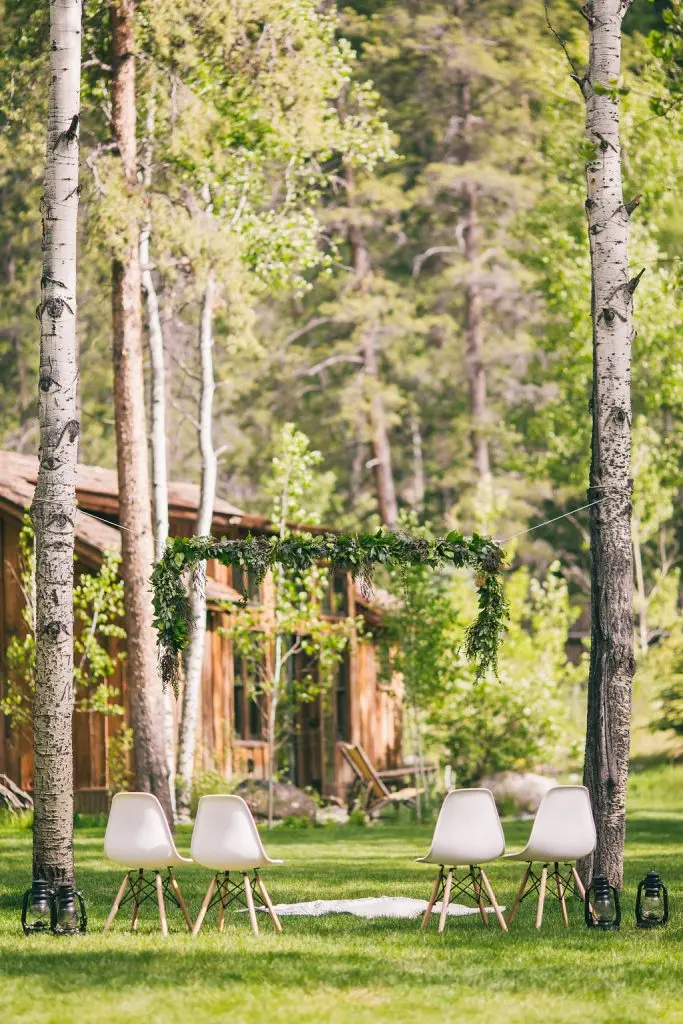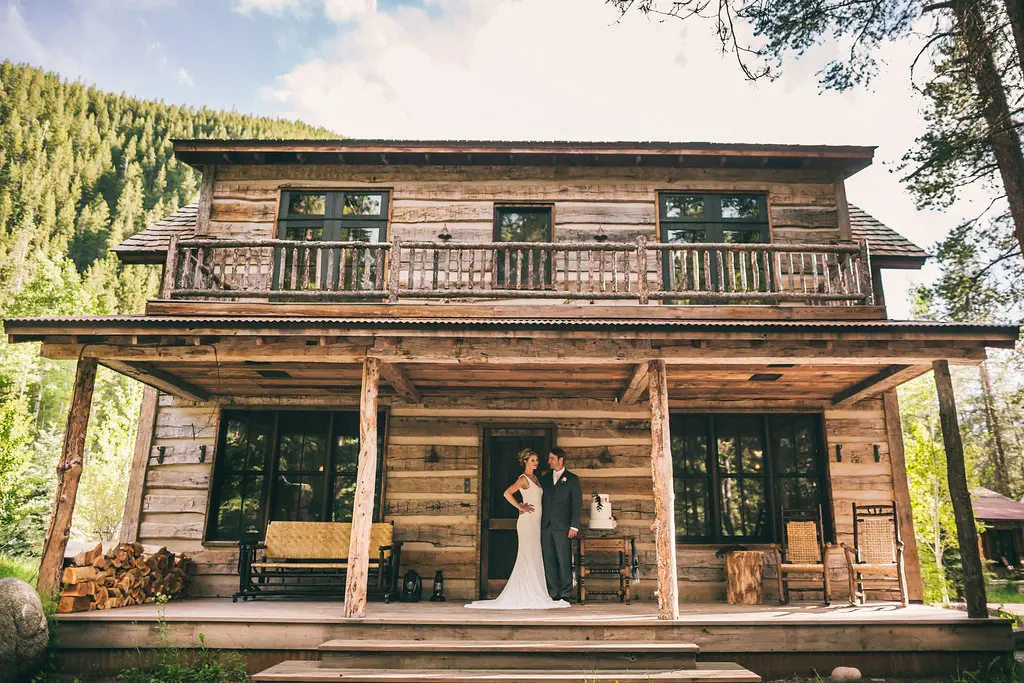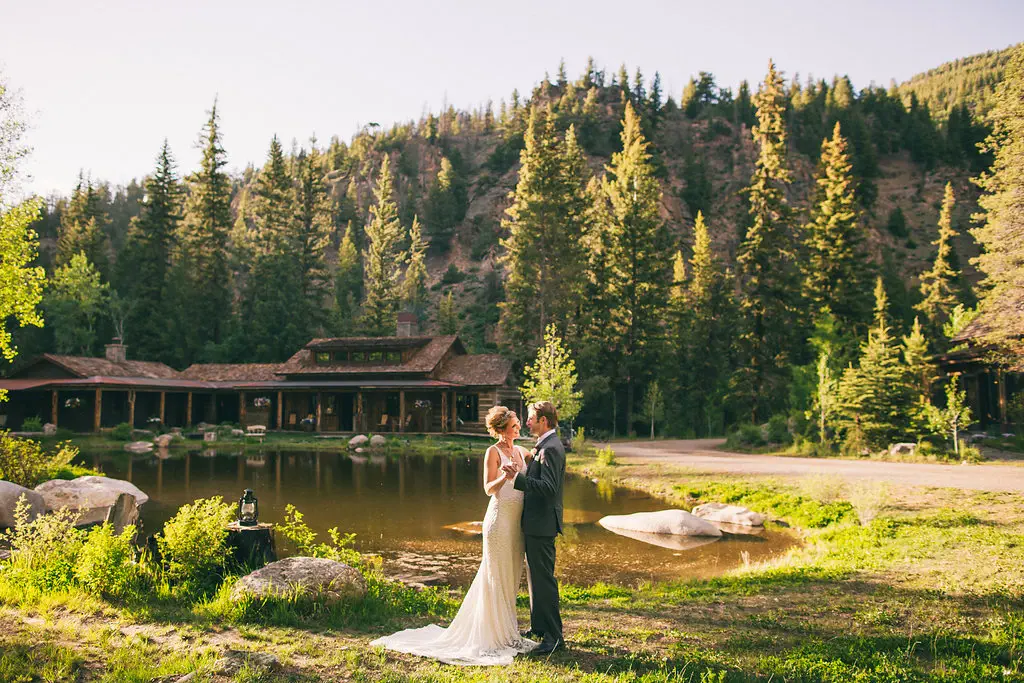 Photo captured by Magnified Joy Photography
Personal Property
As long as the tent site is fairly flat, any personal property in the valley can accommodate a number of tent sizes and shapes. The plus to a personal property is that it's likely you can bring in whatever food and beverage vendors you chose to work with. Restroom facilities will likely need to be rented; locally you have the option to rent a traditional porta potty or a bathroom trailer. Depending on the location and the property owner's requests, you may be required to provide transportation. Any in-town location will require things to wrap up by 10pm to comply with the city noise ordinance.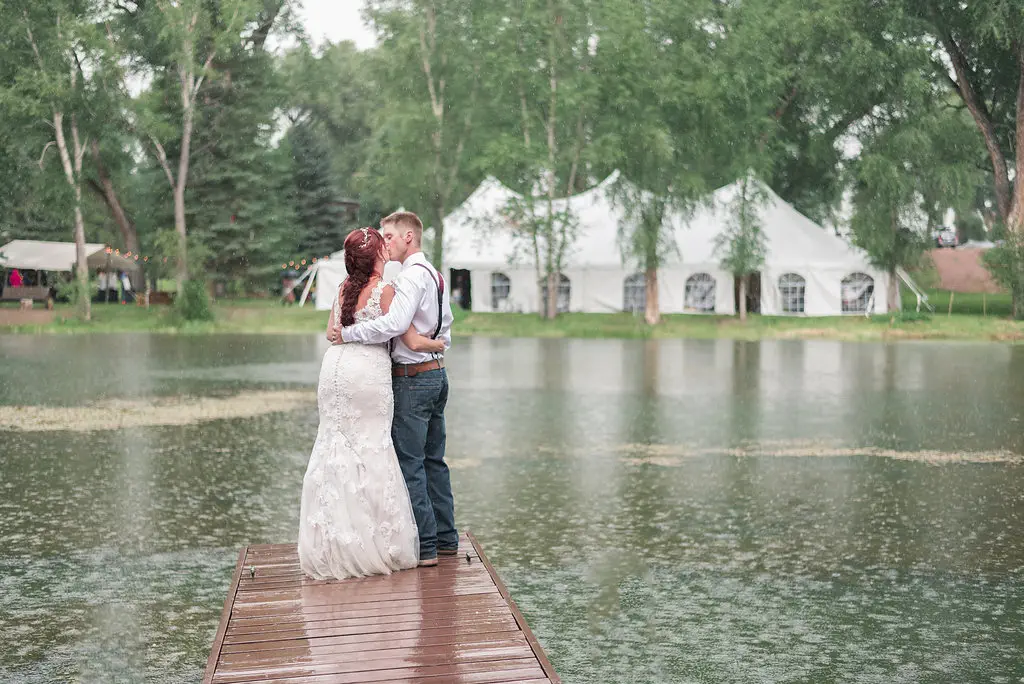 Photo captured by Amanda Matilda Photography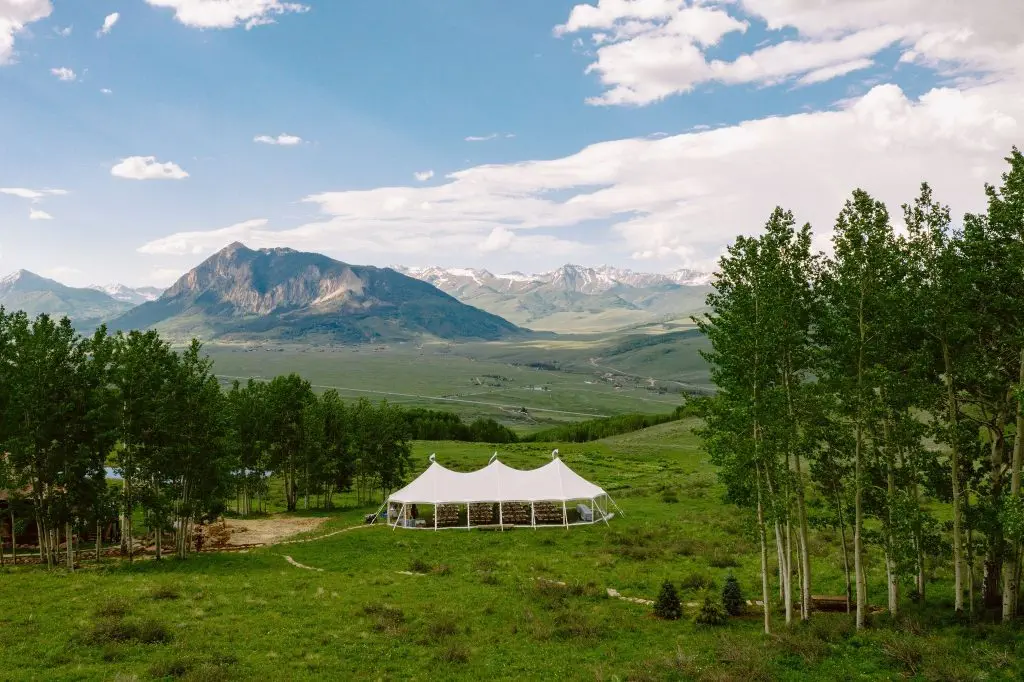 Photo Captured by Benj Haisch