As a bride I found wedding photography shopping the most overwhelming of all items on my to-do list, hands down. I began the search process from scratch three times. Three times. That's a lot of wasted time. And now I talk with plenty of brides who are searching for a photographer but just aren't sure what it is they are 'shopping' for. Lucky Penny Event Planning has got you covered.
I've teamed up with Rebecca Ofstedahl, Owner and Lead Photographer of Third Eye Photography in Crested Butte, Colorado, to give you the inside scoop on the wedding photography world and answer your photography questions. Over the next six days, Lucky Penny will discuss six wedding photography frequently questions.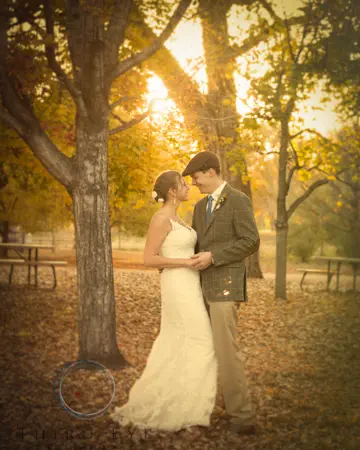 Why are photographers worth the amount they charge, and why are prices so across the board?
Go ahead, ask a photographer why they are worth the amount they charge. They would love to tell you and, they have a lot to tell you.
A small photography studio (one lead shooter) may tell you they charge a higher price because they take on a limited number of clients each year. Many studios, like Third Eye Photography, may only take on 10 to 15 weddings a year. This allows photographers to take the time to create relationships with her clients and give them the attention they deserve.  By creating a relationship with the couple they can relax and feel more comfortable in front of the camera. Everyone looks better when they are relaxed.
There is plenty of work that goes on top of just taking photos during the wedding. Another item that adds to the final package cost is photo editing. A photographer takes an average of 2000 to 3000 photos a wedding. If you have a full-day contract, that's a lot of photos the lead photographer needs to pick through in order to edit the top images. Rebecca says she spends an average of six to eight hours editing each full-day wedding she photographs. So you are paying for more than just the photographers time on your wedding day.
Many Collections at Third Eye Photography  include albums and FlashDrives, providing the clients with the ability to print their own prints for family and friends as well as create their first family heirloom in a beautiful, high-end album. Collections may also include a 2-hour Engagement or Portrait session.This allows the clients to have a variety or professional images taken over the course of their engagement year. Engagement or portrait sessions are also a great way for bride and grooms  to get to know and feel comfortable with their photographer.
Of course reputation, experience and the number of publications a photographer is credited in plays a role in the price tag. The number of publications does not make a photographer better, however it provides credibility. Photographers who have been working in the wedding industry for several years come with knowledge that is priceless and can not be taught. This includes experience leading up to the big day such as discussions about timeline and locations.  Photographers who are breaking into the business often charge less because of their documented experience level.
I hope you all had a wonderful weekend. Come back tomorrow to learn why a second shooter is key to getting those wedding photos you have dreamed about.
Happy Sunday!
Photo credit goes to Third Eye Photography.