Why do many photographers not list prices on their website?
As you begin looking for wedding photographers, you will notice many do not publish package prices. As a bride I found this frustrating at first. I was wanting to be a stealth 'shopper' and see if they were in my price point. I recommend foregoing that line of thinking right off the bat. You're going to have to reach out to at least a couple of photographers to explore your options. And don't feel bad about reaching out to multiple photographers; ask if they are available on your date, confirm if they land in your price point and determine if it's someone you can build a relationship with. However, when you make your photographer selection, the other photographers will appreciate a simple note letting them know you have gone in a different direction.
Photographers want to build a relationship with you and get to know you as they craft a package that is exactly what you are looking for; after all, you are entrusting them with documenting your important day. The relationship with your photographer is more than just the price of the package. It is important to feel comfortable with your photographer and that means having a phone or in-studio meeting before discussing package prices. If you and your finance don't get along with your photographer you will not get good images on your wedding day and it may leave you feeling super stressed- and no one wants that!
When shopping for a photographer try to picture yourself in the images they provide in their portfolio. If you look at their images and say 'I want to be that bride' then their style is a good fit. Ask to see images from an entire day, maybe even in the locations you have chosen. Then judge their personality and make mental notes of how you feel when talking with them. Once you have found someone who's portfolio you love and who you get along with well, discuss pricing. And don't be afraid to negotiate.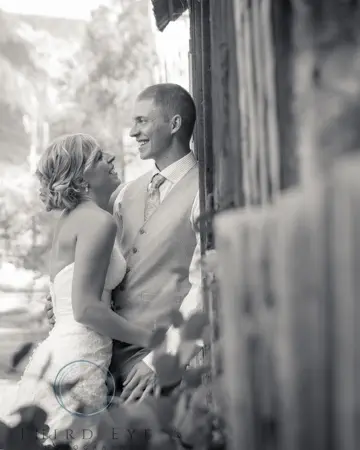 Photo credit goes to Third Eye Photography.