Through a laid back, adventurous circle of friends, Morgan and Clay met  five years ago while attending college in Colorado; and they couldn't be more perfect for each other. Each is beyond passionate about being outside, being active and outdoor adventures.
When I say they like adventures I'm not exaggerating one bit. In the five years Morgan and Clay have know each other they have guided ice climbing in Alaska, rock climbing in Utah, high altitude mountaineering in Ecuador, and backpacking in Colorado.
I am so blessed to be a part of Morgan and Clay's September wedding. They have chosen to have their ceremony in a secluded field in Crested Butte, Colorado and continue the celebration at a ranch located up Taylor Canyon.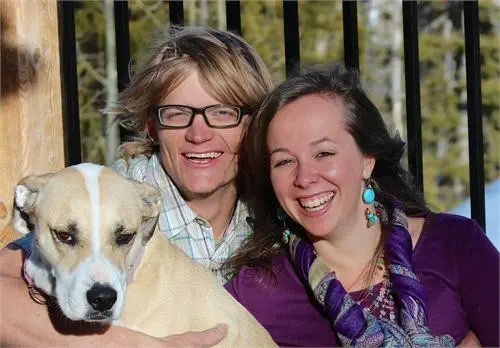 Below is their sweet engagement story, from Clay's prospective.
When I decided that I wanted to ask Morgan to be my wife I knew that I wanted to make it unique to us and our relationship. Because of this, I decided to ask Morgan to marry me on a bike ride home from work on a regular day. It was important to me to propose on a normal day because I want the rest of our lives to be a succession of normal days. Morgan has a way of taking your average normal day and making it wonderful. I wanted to make sure that, during the proposal, I mentioned how wonderful a normal day in my life is when I have the pleasure of sharing it with someone I love very much. Unfortunately, I had to ask Morgan's Dad, Doug, first."
"For those that don't know Doug, he is a wonderful man and I couldn't ask for a more kind, generous, and outright friendly father-in-law. Despite this I was pretty nervous about asking him for his daughters hand in marriage. Because I didn't want Morgan to hear the conversation, I called Doug while I was at work. Unfortunately I didn't consider that this would mean that Doug was also at work. By poor luck I called Doug just as he was in the middle of giving a tour of the National Institute of Health where he works. Because I don't talk to Doug often on the phone, he naturally assumed that there was some problem or emergency. He picked up the phone in the midst of giving his tour and I was so flustered by the whole thing that I simply blurted out that I wanted to spend the rest of my life with his daughter (smooth right?). Luckily Doug handled this with his usual grace and told me that he would be delighted for us to be married."
"On the big day, I rode the trail where I wanted to propose and picked out a beautiful spot overlooking Crested Butte. I picked out a location where I could setup a camera to take a few photos. After work, Morgan and I hopped on our bikes and headed for home. When we got close to the spot that I had picked out, I rode ahead and set up a camera. When Morgan arrived she hopped off her bike expecting a normal break and instead turned around to find me on one knee. The look of surprise on her face almost made me laugh during the proposal. Although Morgan is not thrilled about having a bike helmet on during the photos I couldn't have asked for a more perfect normal day!
-Clay