Full Event Planning & Design
Package beginning at $10,000
Our full-service wedding planning package offers complete management of your wedding from A to Z. We help you secure a venue, build your custom vendor team, track your budget and payments due, and manage the overall production of your wedding. We will keep you organized and on-track using a shared wedding portal. We understand your time is valuable and we want nothing more than to help you save more of it and have less stress as you plan your wedding day. You won't just be assigned a wedding planner; at Lucky Penny we take on every wedding as a team and you get Ciera and Kaitlyn as our wedding planners!
What to Expect
Unlimited hours of meetings and consultations
Unlimited email correspondence
Venue scouting and recommendations
Custom planning checklist
Planning platform to hold and track all planning progress
Development and guidance of a wedding budget
Vendor recommendations and guidance
Contract review to avoid redundancies or unreasonable costs
Discovery and creation of a full wedding day design
Comprehensive design booklet covering all design elements
Wedding website verbiage including travel details, places to stay, where to eat, and other local details
Complete venue layout and floor plan for day-of
Communication and coordination with all vendors from start to finish
Book, coordinate, and update the final order of all rental items
Coordinate room blocks at selected hotels and negotiate discounted rates
Arrange and coordinate all day-of transportation for the wedding party and guests
Manage the design and production of the invitation and printed goods
Packaging, sealing, and sending of the invitations
Creation of wedding weekend event timeline
Attendance of final site visit
Ideation, shopping, and assembly of welcome bags
Manage the attendance and food preference of invited guests
Attend ceremony rehearsal to direct the walk-through, and coordinate ceremony details
Unlimited coordinating hours for day-of management of timeline and vendor details (this will be managed by two+ coordinators)
Complete set-up and tear down
Access to emergency aversion kit
Plus so, no really… SO much more!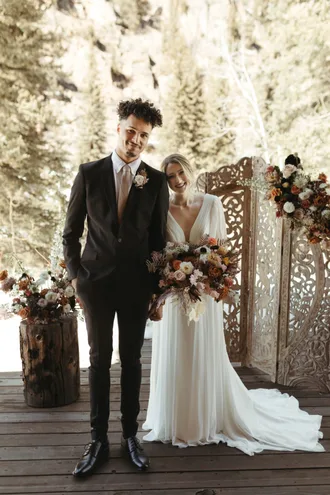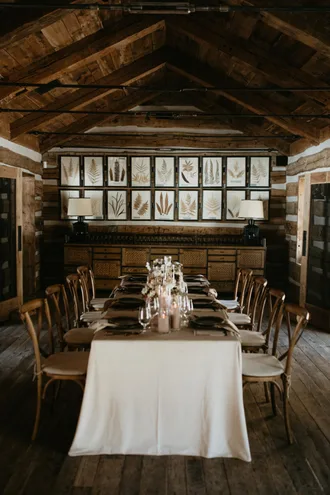 Multi-Day Event Experience
Custom pricing as every multi-day event is different
A single day might not suffice. If you aspire to create a multi-day experience for your guests, allow us to collaborate with you in the planning process. Our team specializes in planning the entire experience from welcome drinks to the farewell brunch. With designs for each day, full-service planning, and complete coordination we will customize a package specifically to your wants and needs. Why have just one day when you could create an entire, multi-day experience?
What to Expect
Full concept and design put into place for each day of your event
Personalized design booklet for each day
Full venue floor plan and schematic for the entire weekend
Selecting the perfect vendor team for each event
Complete set-up and tear-down of all decor and design elements
A full coordinating team to run your weekend to perfection
Unlimited pre-wedding meetings with the coordinator to discuss the timeline and day-of details
Full timeline created for every day of your weekend experience
Communication and coordination with all vendors from start to finish
Attend ceremony rehearsal to direct the walk-through, and coordinate ceremony details
Coordinating vendors throughout the entire planning process
Unlimited weekend hours onsite from your coordinating team
Plus so much more
Elopement & MicroWeddings
An elopement to Lucky Penny is either an event for the two of you alone or a handful of guests. Perfect for the couple looking to exchange vows in an intimate setting. As with any event, even ones with few guests, there are details to be planned and vendors to work with.
Venue scouting
Vendor recommendations
Contract verification
Vendor and venue communication and confirmation
Accommodation Assistance
Creation of event timeline
Ceremony and reception design concept and execution
Assist in obtaining a marriage license
Day of management
Corporate & Non-Profit Planning
Lucky Penny will be there from start to finish, nurturing an event from a fledgling idea into a memorable experience for guests. We handle all aspects of the event design, planning, and execution for different types of corporate events, including corporate and non-profit events. Every package is custom and varies depending on your needs, vision, location, and size of the event.
What to Expect
Sourcing all vendors
Thorough review of all vendor contracts to screen for issues and note vendor requirements
Vendor Liaison: lead coordinator is each vendor's main point of contact from point of booking through the event day
Vendor confirmation: Confirmation of all arrangements with the venue and vendors prior to the event
Coordination of final payments to vendors
Order placement, delivery, and pick-up arrangements of all rental items
Theme development
Assistance in the development of creative ideas, defining the event's unique style, and choosing a color palette
Overall décor planning including florals and lighting, floor plan, and layout
Assistance with custom event collateral including invitations and day of items
Unlimited phone & email correspondence from the day of contracted service through your event day
Lead coordinator attends all site visits
The Lead Coordinator is present (in-person or virtually) at vendor meetings, tastings, and, design sessions
Appointment scheduling & reminders for clients and vendors
Develop culinary experience: Work in tandem with the catering team to create an appetizer, main course, beverage, and dessert selection menu
Event agenda development
Investigate the need for any special permits, licenses, insurance, etc.
Organization of a detailed event timeline to be provided to you, designated stakeholders, and vendors
Complete event day management from start to finish. This includes setup to break down. Depending on needs, one or more coordinators will be on-site for the entire event.
Work with your specialized marketing team to create a marketing campaign for fundraisers
Debrief meeting following the event
Complete registration management
Assistance with custom event collateral such as invitation preparation and printing
Addressing and mailing invitations and event thank you's
Ascertain sponsors and donors and confirm their contributions to fundraisers
Develop a plan for the sale of tickets or collection of donations for fundraisers
Manage event volunteers or staff, providing specific roles for them
Create and manage the event website
Transportation and accommodation arrangements
Secure event talent
Creating and managing the attendee list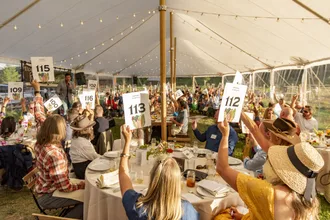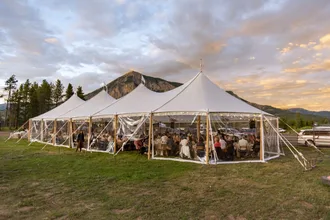 Wedding & Event Rental Guidance, Coordination, Setup and Breakdown
Be it a wedding, holiday dinner, corporate event, or birthday party, there is a strong likelihood you will need rentals for your event. We have a team of Rental Ninjas that will deliver, set up, and break down your Lucky Penny event rentals. On the backend, our team will guide you through the various rentals you will need based on your venue and the season and help with venue layouts. Pricing for these services will be included in your event rental quote. Our team will only deliver, set up, and break down our own inventory. We do rent items to events we are not planning.